Pipe Repair
in Santa Fe, Los Alamos, Rio Rancho, & Northern New Mexico
The pipes in your home's plumbing system are extremely resilient, capable of lasting over a century under the right circumstances. However, even the sturdiest pipes need repairs every now and again. The kinds of problems you need to watch out for with your pipes depend largely on the material your pipe is made of, which we'll get into below. No matter what kind of pipe repair you need, however, call Roadrunner Air Conditioning, Heating & Plumbing, and we can help you out. We offer a full range of pipe repair services throughout Santa Fe and northern New Mexico.
Read More

Burst Pipe? Leaking Line? We've Got You Covered!

Plumbing issues can quickly ruin your day, whether it's a flood of water that turns your bathroom into a wading pool or a slow leak that affects your home's water pressure. The good news is that help is right around the corner. Our plumbers are ready to address your pipe repair needs at a moment's notice. In addition to Santa Fe, we serve the greater northern New Mexico area, including Santa Fe County, Los Alamos County, Rio Arriba County, Sandoval County, San Miguel County, and Bernalillo County. You can often find our team driving the streets of the following communities:

Albuquerque, NM
Angel Fire, NM
Edgewood, NM
Espanola, NM
Las Vegas, NM
Los Alamos, NM
Nambe, NM
Pecos, NM
Pojoaque, NM
Red River, NM
Rio Rancho, NM
Taos, NM
Tesuque, NM
Truchas, NM
White Rock, NM
And More!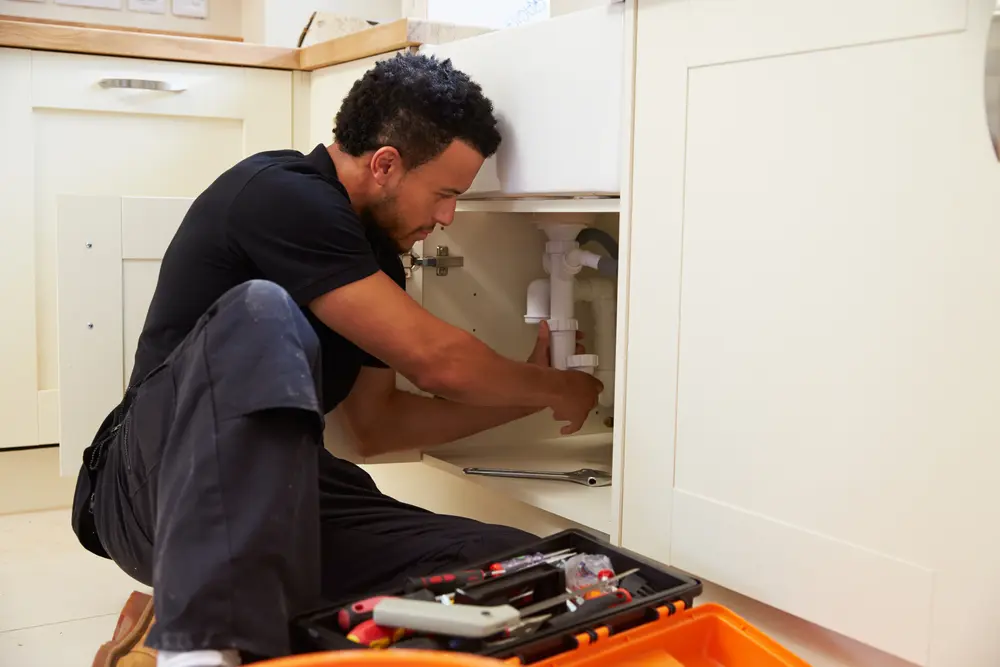 Common Problems that Lead to Pipe Repair
There are a few different factors that can commonly lead to the need for pipe repair. Here are just a few of them:
Rust: Once the most common problem to afflict pipes, rust is now becoming more and more rare. This is because the only pipes that are vulnerable to oxidation are iron. Iron pipes were largely replaced with copper pipes around 60 years ago precisely because of this problem. Still, some older homes still have iron pipes and are, therefore, susceptible to rust. A common sign of rust in your pipes is red or brown discoloration in your water. If you see discolored water coming out of your tap, call a plumber to perform a pipe repair in your Santa Fe or northern New Mexico home.
Pitted Corrosion: Just because copper pipes are more or less immune to oxidation doesn't mean they don't have problems. Pitted corrosion is a type of corrosion that eats at the pipe from the outside inward, creating small holes called "pinhole leaks." Pinhole leaks are so small that they don't really have any warning signs to announce their presence. This means that the first sign most homeowners have of a pinhole leak is when they notice the water damage that's already been done. The best way to stop pinhole leaks is by having your plumbing regularly inspected.
Limescale: Limescale is caused by hard water, which is water that has a higher-than-normal mineral content. This water leaves mineral deposits in the pipes it flows through. Over the course of years, these deposits build up into limescale, which restricts the flow of water through the pipes. If caught early enough, the lime scale can be cleared out of the pipe to restore it to full function. If not, however, the entire pipe will likely have to be replaced.
Read more

Pipe Repairs Begin With an Inspection

An inspection serves as the diagnostic foundation upon which the entire repair process hinges. It involves a comprehensive evaluation of the pipes' condition, identifying leaks, corrosion, blockages, and structural weaknesses. We use advanced tools and techniques to ensure a thorough assessment, pinpointing existing issues but also preventing potential future problems. The findings guide our technicians in determining the most suitable repair methods and materials. Whether it's a minor patch-up or a complete pipe replacement, the inspection's insights are invaluable for a successful repair. Once the inspection is complete, the pipe repairs can be executed with precision and accuracy.

Signs Your Water & Sewer Lines Need Pipe Repairs

Recognizing when your Santa Fe plumbing system requires pipe repair services is crucial to maintaining a functional and efficient system. If wear and tear on old pipes goes unaddressed, it can lead to various issues with your water and sewer lines. Make sure you keep an eye out for the following problems that indicate it's past time for a plumbing pipe repair:

Water Leaks: If you notice unexplained increases in your water bill or damp spots on walls or ceilings, it may indicate a hidden leak in your water lines. Prompt pipe repairs can prevent further damage.
Slow Drains: Slow-draining sinks, showers, or toilets are often indicative of clogged or damaged sewer lines. Professional drain repair is essential to avoid sewage backups.
Foul Odors: Unpleasant odors coming from your drains or yard can be a sign of sewer line issues. Pipe inspection can pinpoint the source of the problem.
Low Water Pressure: Reduced water pressure can result from various factors, including pipe corrosion or mineral buildup. Pipe replacement or repair may be necessary to restore proper water flow.
Discolored Water: Rusty or discolored water indicates corrosion within your pipes. Pipe repairs can address this issue and improve water quality.
Loud Noises: Strange noises, such as banging or clanking, when using water fixtures can signal loose or damaged fittings. Timely plumbing pipe repair can prevent further damage.
Aging Pipes: If your property has old pipes, it's wise to schedule regular inspections. Aging pipes are more prone to leaks and other issues that require plumbing services.

Our pipe repair services cover all aspects of plumbing, from inspections to pipe replacement. Don't wait until a minor problem becomes a major headache — contact us to ensure the reliability of your plumbing system and prevent costly repairs down the line. We proudly serve Santa Fe, Albuquerque, Angel Fire, Edgewood, Espanola, Las Vegas, Los Alamos, Nambe, Pecos, Pojoaque, Red River, Rio Rancho, Taos, Tesuque, Truchas, White Rock, NM, and the surrounding areas.
Here's What Our Customers Are Saying
With Pipe Repair, Time Is of the Essence
Pipe problems tend to be progressive in nature, especially pipe leaks. The longer they are allowed to continue, the more damage they can cause to the surrounding area. For this reason, it pays to have problems with your pipe fixed as soon as possible.
If you suspect that you have a problem somewhere in your plumbing system, call Roadrunner Air Conditioning, Heating & Plumbing for a pipe repair in Santa Fe or the surrounding northern New Mexico area as soon as possible. We'll inspect your entire plumbing system and repair any problems we find. With us taking care of your plumbing, you can rest assured that it will last a while yet.